It's not really that hard being vegan. A lot of people feel like they're sacrificing their taste buds for better health and a better planet, but most of us cook what we want and eat what we want and it doesn't bother us much at all. It can be a pretty delicious lifestyle change if you're willing to put in the research. 
Still..... there are those times when we find ourselves missing the classics. Especially in the summer. On the 4th of July,  grilling out with your non-vegan friends and family can lead us quite close to temptation. Remembering the savory taste of chicken wings, or baby-back ribs can test our dedication to the plant-based power-ism. 
Well be tempted no longer veggie-fam. We never roll over! Anyone who say's vegans just can't meet the bar with the meats is a thin skinned CARNIST!!!
Vegan Barbecue Ribs
First an foremost, let's tackle the colossus of summer catering, the gargantuan of Good Eats! Everyone loves ribs. You may not like the fact that a living creature was brutally murdered to then be eaten, but I bet my left pinky toe you didn't go vegan because you didn't like the taste!
These "ribs" will be made with seitan, not to be confused with the dark lord who gave humans the idea they should eat other animals(this is in reference to Donald Trump, who did you think I meant?). 
Quick reference: Seitan is wheat protein isolate. It's essentially washed wheat gluten, so it's the raw proteins. Gains bitch. 
The Recipe:
Vegan Barbecue Ribs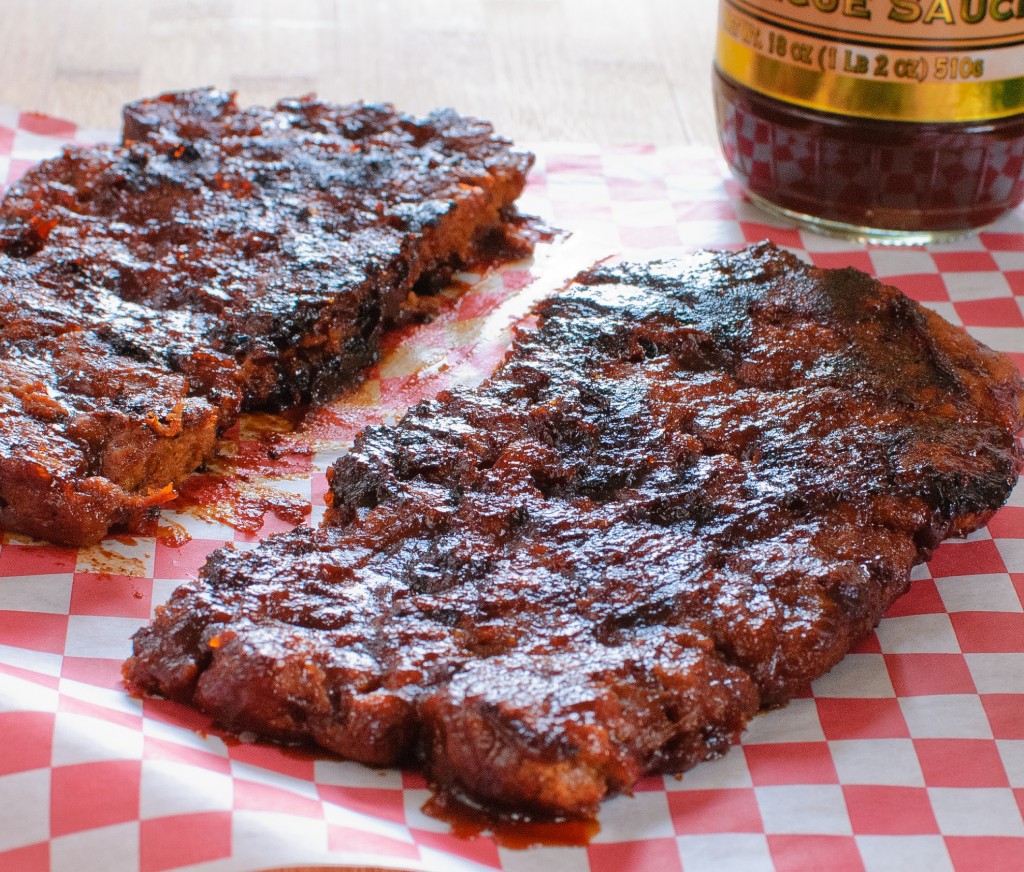 Prep time:
Cook time:
Total time:
BEFORE BEGINNING.....
We recommend that you double all of the ingredient amount's below. If you're trying to make gains, this will be enough for one portion, maybe two. You'll want to make more, not only because it's effin good, but because it's smart to have some ready for future meals.
Ingredients
1 cup vital wheat gluten
2 Tbsp nutritional yeast
1 Tbsp smoked paprika
2 tsp onion powder
1 tsp garlic powder
Several grinds fresh black pepper
¾ cup low-sodium vegetable broth
2 Tbsp natural peanut butter
1 tsp liquid smoke
1 Tbsp soy sauce
1 cup barbecue sauce of choice, plus more for serving
Instructions
Preheat oven to 350 F. Lightly grease an 8x8 baking dish and set aside.
In a medium bowl, stir together vital wheat gluten, nutritional yeast, smoked paprika, onion powder, garlic powder, and pepper.
In a measuring cup, whisk together broth, peanut butter, liquid smoke, and soy sauce until incorporated. Pour mixture into bowl with the dry ingredients, and stir gently until well-incorporated and the mixture has formed a soft dough. With your hands, knead gently for 2-3 minutes.
Transfer mixture into greased baking dish and flatten so it's spread evenly across the entire pan. Use a knife to make one lengthwise cut across the dough, then cut evenly crosswise to make 1-inch slices. You don't need to pull them apart; you just want the ability to easily separate them after grilling.
Place pan in preheated oven and bake for 25 minutes. While the ribs are baking, heat up your grill or lightly oil a grill pan.
Remove from oven and brush the top of the ribs with barbecue sauce. Place sauce side down on heated grill (or grill pan on the stove over medium heat). Brush the top with more barbecue sauce.
When the bottom of the ribs are deeply browned (about 5-6 minutes), flip over and cook the other side until brown. Remove from heat and serve immediately, with more barbecue sauce if desired.
Eat it with some potato salad and you're good to go!
Check back later for more awesomely tasty meals yall :D